There is a saying that goes something like this, "Do one thing everyday that frightens you."  When I see this, usually on pinterest in some fancy script, I think, "Why?"  It doesn't make any more sense than "Do one thing every day that grosses you out?" or "Do one thing everyday that will keep you up at night wondering if the police will find out".  I have learned that pain is your body telling you to go see a doctor or take your hand off the burner.  Fear is your head saying this is not a good idea.  Let's take for instance my fear of roller coasters.  This is the logical part of my brain saying "Do you really want to strap yourself into a small car, with no airbags or roof, hurtle along a track that looks like something from a Thomas the Tank Engine play set, operated by a questionable individual with poor hygiene and mostly likely does not have an engineering degree, all for the low price of $8.00?"  My answer is a resounding "no" but on occasion I have been guilted into a ride with a niece or nephew.  While on the track of death I was convinced this would be the day the car flew off, hurtled to the ground and smashed my body into a pulpy mess on the pavement.  When I did make it through with my life intact I didn't have a feeling of exhilaration or an adrenaline rush like I had faced death and won.  I thought "what kind of idiot thinks that is entertainment" and resolved to never do it again.  Which I haven't.  And yet…a week ago I did something that scared me almost as much as a death romp on a triple loop on the Dragon of Terror roller coaster.  I auditioned for a play.  It probably doesn't sound as scary but trust me, it was.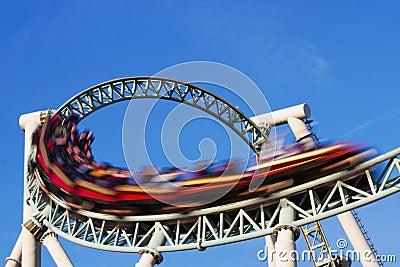 Just over a decade ago acting was my life.  I lived in Toronto, had an armful of resumes and head shots for every conceivable form of acting; theatre, film, commercials, spokesperson…and waitressing.  I would go on an average of 3 or 4 auditions a week.  I also did a lot of plays.  I rarely got nervous.  It was all old hat to me.
Once I became pregnant I put the theatre behind me, went back to school and got a steady job.  For some reason, out of the blue, I saw an audition notice for a play that sounded really interesting.  Without giving it much thought, because if I thought it through, I never would have done it, I reserved myself a spot.  I had four days to memorize and practice a monologue.  Did I also mention I was working two 12-hour and one 8-hour shifts over those 4 days?  I was stressed, but more than that, I was terrified.
"What was I thinking?"  I've got a memory like a sieve these day.  Just a week ago I was at a store with Jim trying to get his attention and I called him Anya.  I am forever using the wrong word "Anya put your dirty dishes in the microwave."  "Lorri I have to write a note will you pass me a fork."  How was I going to memorize a whole monologue.  Easy, I picked the shortest one possible.  I kept having visions of me standing in front of a panel of strangers with my mouth open and no sound coming out.  My fear was I would embarrass and humiliate myself at something I was once very good at.
The day of the audition I was in the bathroom practicing my monologue into the mirror and a thought went through my head.  "Don't go. They do not know you so who cares if you pull a no-show."  For a second I considered it, but that would be rude.  I may suck at acting, I may freeze, humiliate and even wet myself…but no one will be able to say I have bad manners.  So I went.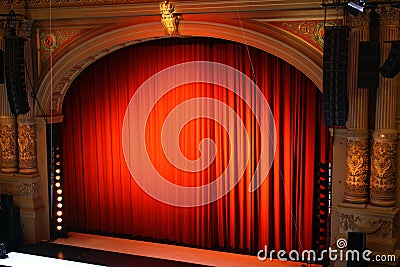 My stomach was in knots and I won't even describe what was going on in my intestinal region.  My legs were actually shaking.  Then my name was called and in I went.  There were three people sitting behind a table and a video camera would be taping the proceedings.  I tried to call on the hundreds of times I had done this in the past.  Everyone was very nice.  Then the director told me to find my light and begin whenever I was ready.  In my head that voice said "What if your not?"  I told the voice to "shut the hell up I'm trying not to pass out here."  I found my light, took a deep breath, turned to the table and…performed my monologue like a professional.
I did it.  I faced the fear and proved to myself that I still had it.  Four days later I heard back from them.  "Thank you so much…blah blah blah…we had a great turn out…blah blah blah…we were very impressed with your audition…blah blah blah…but at this time we won't be able to offer you a part."  Big sigh of relief.  Thank God.  I don't have time to do a play and after memorizing one, small monologue I couldn't imagine have to learn a whole play.  So I didn't get the part.  That doesn't matter.  What does matter is that I saw it through and I was proud of the audition I gave.  I know it was good.  Was it what they were looking for?  Obviously not but hey, that's theatre, lots of rejection with a small side of occasional glory.  So to end this with another quote that people can trot out to justify almost anything, "It's not the destination but the journey."